Click here to chat via Whatsapp
NEW PRODUCT

Simply Probiotic is a daily, science-backed probiotic that provides 1 billion active probiotic organisms, which promote digestive health. It is formulated with a powerful CFU GanedenBC30®* probiotic, which is a bacillus coagulans GBI-30 6086, that aids in carbohydrate and protein digestion. This probiotic is tough enough to survive the gastric journey to get to where it counts, helping you feel your best every day.
Review Details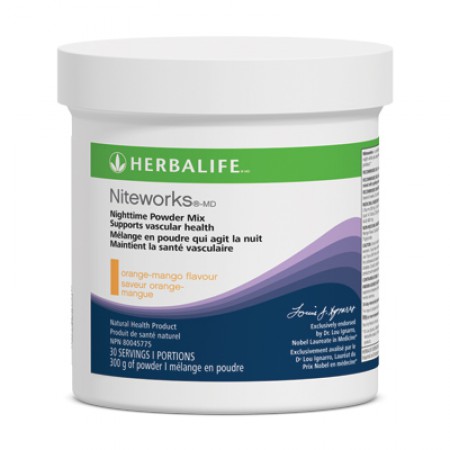 Herbalife Niteworks 30-day supply Powder Mix
Product Review (submitted on October 20, 2012):

I first heard about the doctor that developed this product and his winning the Nobel peace prize for it's development and I searched the internet for info on him...then I researched the individual elements and then I bought the doctor's book....I am 71 and last winter I was feeling really bad and my doctor couldn't find anything to cause me to be that way except high cholesterol and high blood pressure and I was taking 7 prescriptions for that.....I asked my cardiologist and my primary care doctor if this would interfere with the meds I was currently taking and they both said no...each said that they had prescribed some of the ingredients in the product but not as a formula....so I had blood labs done and five months later I had it done again...my labs had all come into spec except my triglycerides..they got higher and I am now trying to drop that number by not eating so much carbohydrates....my overall cholesterol dropped 68 points...I now use this product regularly and I take one bp med, twice a day and one water pill a day.....but the really wonderful thing is that I feel good again and I can get up and move around and go shopping again.....it's been a great find for me....