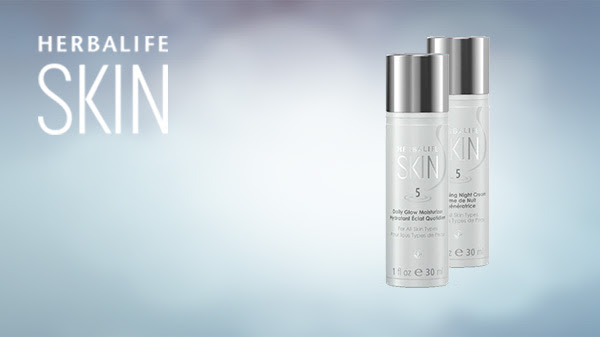 Regardless of whether your skin type is dry, oily, normal or even sensitive, moisturising should be an integral part of your skincare routine. Moisturisers seals the moisture in and regulates the oil levels in the skin that's why even if you're prone to acne, or breakouts, you should still use a moisturiser. The key lies in using a well-formulated moisturiser on a regular basis and applying it properly.

To maximize the benefits that moisturisers can offer to your skin, moisturise in the morning after you shower when your skin is clean and hydrated and at night since the skin rejuvenates itself while you sleep. Herbalife offers the Daily Glow Moisturiser, an all-purpose hydrating lotion with illuminating properties to give your face a healthy glow. Skin looks radiant, even without makeup. The other one is the Replenishing Night Cream, this rich, luxurious cream helps deliver much needed moisture to the skin at night. Long-term hydration allows you to awaken with softer, smoother skin. Use these 2 Moisturisers day and night with appropriate amount, 2 to 4 pumps, to help ensure a healthy and hydrated skin for years to come.
Featured Question for the Week: (From "Ask Jacquie", Herbalife SKIN Tips and Trends. Click here to access the Herbalife SKIN website)
Q: What is the best way to apply moisturiser to my skin? Is there some special trick I should know about?
A: Applying moisturiser to your face takes a bit of practice to ensure you are using the right amount of product and that you are covering all areas that need to be covered. I have found two successful ways of applying creams and lotions. Hopefully one will be perfect for you. The first is the 5 dot method. For this practice you simply pump your moisturiser onto your fingertip. Then, place 5 dots of product on your face; one dot on your forehead, nose, chin and each cheek. Once the dots are in place you simply blend outwards and upwards against gravity until all areas are covered. Based on the condition of your skin you will be able to determine if 1 pump of product is enough. The second way to apply moisturiser is to pump the product into the palm of your clean hand. I would start with just one pump at first. Rub your palms together about 2 to 3 times. This will ultimately warm the product up a bit for when you massage into your skin. You can start with your cheeks which are usually the dryest, move up to your forehead, nose and end with your chin. If you have ever had a facial this is probably how your product was applied. Give each method a try and see which one you prefer!